The sun is out,
the barbeque is on and the table is laden with everything from your relatives mile high; pavlova with all the toppings to that triple chocolate cheesecake with hokey pokey ice cream. While we're big fans of balance, at this time of the year it's more than a little easy to go overboard with the abundant food choices, so we thought we'd look around and gather some recipe ideas for you that aren't just delicious, but quite nutritious too!
First up,
this fruit christmas stand was such fun to make last year and was admired by our table guests! Using a carrot, apple and toothpicks as a base, load up with your favourite berries and you're good to go.
Next up,
our friend Dr Chloe Corbett from Let Food Be Thy Medicine here in Tauranga, has this yummy coconut, chocolate & date bliss truffle recipe which are super quick to make and look good placed in a jar with a bit of ribbon for a gift as well. You can get started here.
Speaking of sweets,
how does a cranberry and pistachio cheesecake by registered nutritionist and fellow kiwi, Nicola, sound? Not only is it dressed in festive colours, but pistachios contain more potassium (a key mineral that our bodies rely on to function) and vitamin K (crucial for blood clotting and bone metabolism) per serving than any other nut and cranberries are a very good source of vitamin C (just one of many properties!) which helps our bodies to form and maintain healthy connective tissue (think bones, blood vessels and skin).
Moving on to some savoury dish ideas,
avocados contain nearly 20 vitamins and minerals and are a naturally nutrient-dense food source – it's safe to say we're fans of them! This avocado stuffed with salsa and shrimp recipe featured on the NZ Avocado website is so summer worthy that we're beating it'll make it's debut on our table come Christmas and the holidays. Our mouths are watering already!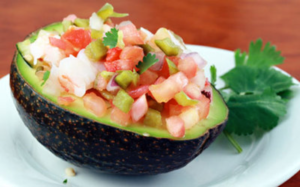 Need ideas for a nutritious way to start the day on the 25th?
An easy one pan mushroom breakfast from Julia and Libby is quick, fuss free and a good way to keep nourished and full before the next meal comes along.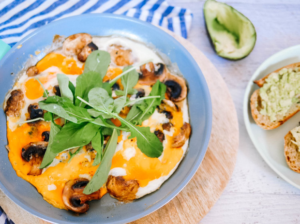 And lastly,
we've got two recipes from kiwi chef, mother and superhuman Nadia Lim – Salmon with cranberry, parsley and nut crust that serves up to 8 and is prepared and cooked in under 40 minutes and a vegan roast (or vegetarian)  with cranberry, sage and cashew nut stuffing balls and tomato onion gravy – we're drooling already!
We hope these recipes have given you a few nutritious ideas for Christmas day and the holiday season – we'd love to hear what you'll be having on the table at yours, so head on over to our Facebook page and tell us all about it!
Bon appetit!